Are you looking to really expand your skills, working with IPTel Solutions to grow your career and work with the latest and greatest technologies - we are looking for a Senior Network Engineer.
Cisco Network Engineer: R&S, ISE or WLAN
Ready to train on some new networking technologies?
Are you a seasoned network engineer working in R&S, WLAN or ISE?
Looking to expand your career with new technologies - keen to learn about DNA Center, SDA Fabric and more?
---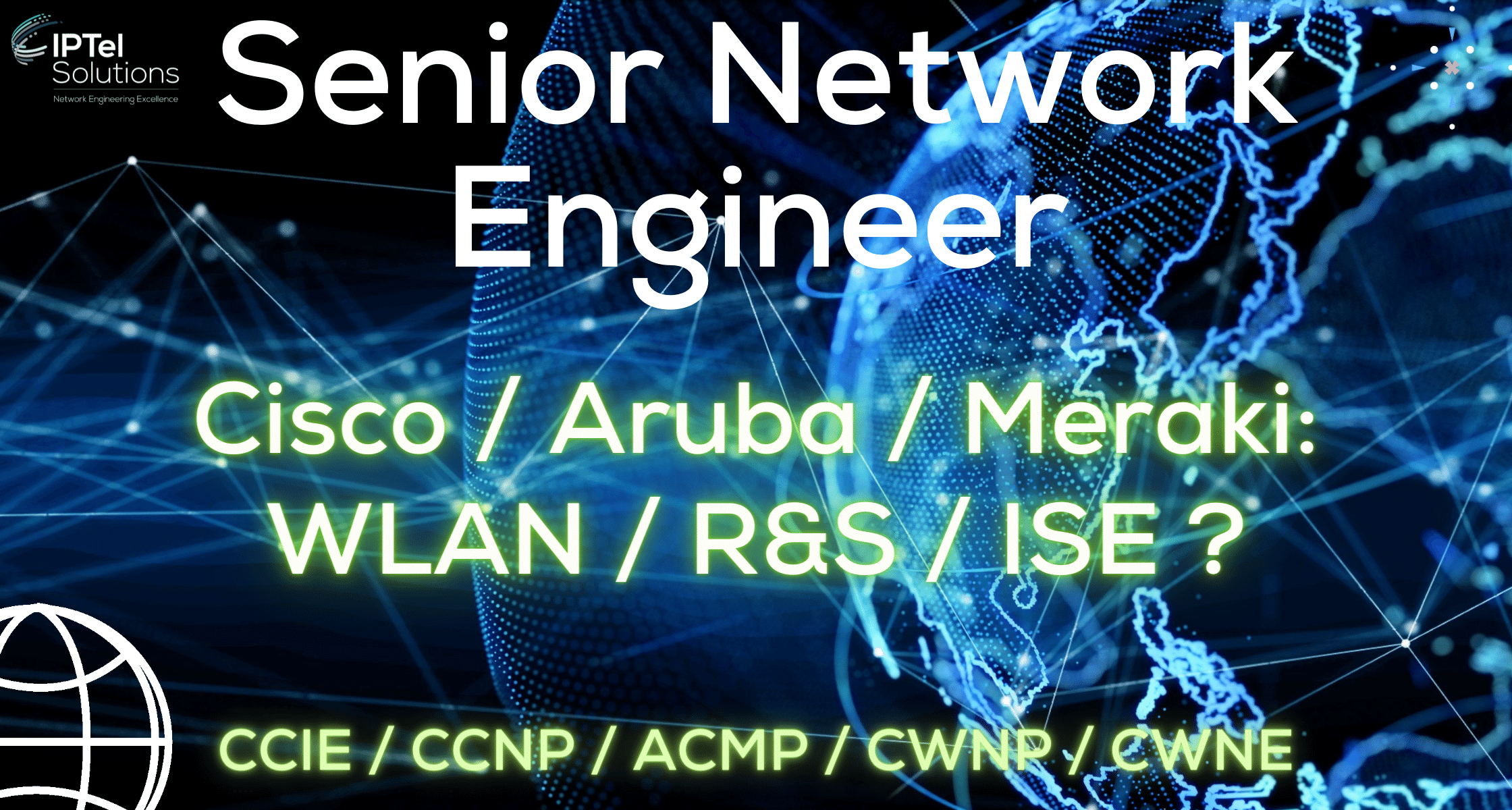 ---
About Us
IPTel Solutions delivers networking professional services with a client base across Australia and NZ.
We currently have a vacancy for an all round network and communications engineer in our team in Brisbane. The role will be to undertake network designs and delivery and work with the existing senior engineering team to deliver complex solutions for customers.
You must have a love for networking and be a self-starter and be committed to self improvement, learning and periodic upgrade of your skills.
We are an environment where you will be working with new networking technologies, so enthusiasm to learn and test out new technologies will be key.
There are a team of like minded engineers you will work within, but you must be able to attend site and operate independently.
---
About You
You have sound technical knowledge and have a passion for engineering
You have excellent communication and presentation skills, both written and verbal
Have the capability to work independently as well as integrate into a high performance team
You are willing to learn and study to further your career
You have a can-do attitude, be highly motivated and a fast learner
You maintain a high level of accuracy with excellent attention to detail
Effective multitasking, prioritisation and logical problem-solving abilities.


---
Essential Criteria
Either current CCNP, ACMP or CCIE or equivalent
Minimum 3 years configuration experience in WLAN or LAN networks (WLAN would be advantageous)
High levels of accuracy in all that you do
Great customer facing skills
You must already be a resident in Melbourne, with rights to work and live in Australia
Willingness to travel (must have your own car and current drivers licence)
You must be physically fit to be able to undertake site work (low level ladder work including building sites)
Strong computer skills, intermediate-advanced skills in Microsoft Word, Excel and Visio.
---
What's in it For You?
Work as part of a multi-state team, delivering network solutions to enterprise customers
Work across the latest technologies with training and support from the team and our vendors
Support for your certification aspirations - looking to get to CCIE? We can help with that
Extensive training lab with Cisco DNA Center and full SDA Fabric
Mix of working from home and in the office
Competitive salary, laptop, mobile phone and home working equipment supplied
Only shortlisted candidates will be contacted to progress with an online engineering assessment.
No Recruiters please.
---
Ready to Apply?
Are you ready to submit an application? We'd love to welcome you the team at IPTel. Click the image below to apply: